---
The new series of WowPot slot machines made its debut in 2020. With seven network-linked slots, some of the titles in the series appeal to players looking to win. Indeed, two titles in the network, Sisters of Oz WowPot and Book of Atem WowPot, pay out huge jackpots every month. The Major jackpots of these slots pay out pots of over $50,000.
Major and WowPot Jackpots
The WowPot slot machines are just like regular video slots. What makes them different? They have bonus wheels with first prizes starting at 2 million. Winning combinations trigger these wheels during the game.
What's the highlight of the WowPot series? The bonus wheel pots of these slots are linked together. No matter which slot you play, you always have a chance of winning the common WowPot of over 2 million.
Each slot in the WowPot series has its own wheel, but the pots are all the same.
There are two types of segments on the wheels that pay out large sums of money. These are:
The Major Segments (worth over $50,000),
and the WowPot segment (worth over 2 million dollars).
What makes WowPot games so exciting? The pots on the wheels display whopping pots through the progressive system. Every time a player bets on one of the WowPot slots, a percentage of those bets goes into the pots. As a result, the jackpots reach incredible amounts.
Sisters of Oz WowPot betting options
Compared to the other slots in the WowPot network, Sisters of Oz WowPot has a wheel with fewer segments (12 instead of 20). This significantly increases your odds of winning. Indeed, there is only one segment on all the WowPot bonus wheels that pays out the jackpot of over 2 million. Simple math tells you that Sisters of Oz offers the best odds for a massive payout.
Fixed and progressive jackpots
The great thing about a WowPot slot machine is that there are two ways to win a jackpot. First, there are winning combinations that pay out a certain number of coins. Second, there's the bonus wheel that activates according to what happens during the game. So, it's like a video slot, but with a wheel of fortune.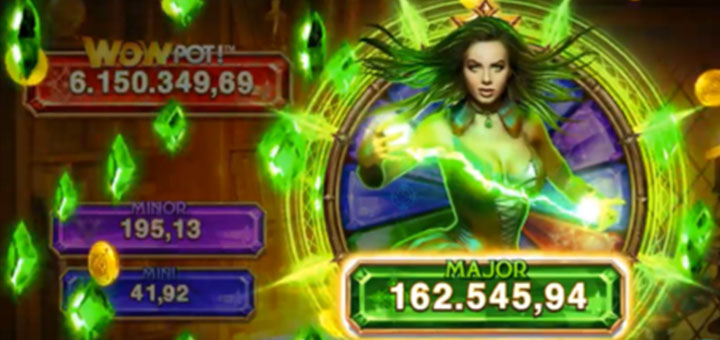 You need a lot of luck to win the top prize on a slot machine like Sisters of Oz WowPot. However, it often pays out Major jackpots of over $50,000. Some of the lucky winners of Major pots often win over $150,000 through the progressive system.
Sisters of Oz: maximum bets and wins
You can bet on the Sisters of Oz slot machine for as little as 20 cents per spin. In the basic game, you can win up to 720x your bet. The most you can bet on a spin is $300. All in all, there are plenty of betting options depending on your budget. To boost your odds of winning big, you should bet at least $2 on each spin. Indeed, the WowPot slot system mostly favours big bets. By betting at least $2 per spin, you have better odds of winning.
WowPot bonus wheel pots
All the WowPot wheels have four pots available. These pots all have the same jackpots. No matter what WowPot slot you play, you can win four different types of jackpots when the wheel appears. Each wheel has the Mini, Minor, Major and the WowPot. Respectively, the jackpots start at $10, $100, $50,000, and $2 million. Each pot is constantly growing. As soon as a player wins one of the pots, it returns to its original value and then increases again thanks to the players' bets.
RTP and payment frequencies
Sisters of Oz has a 92% payout ratio. The 28.18% payment frequency allows you to win coins more than one time out of four. In the basic game, the slot has medium volatility. However, the progressive jackpots have high volatility. This means that it is fairly easy to win money during the game, but difficult to win the big bonus wheel prizes.
Playing on Sisters of Oz WowPot
You can play Sisters of Oz WowPot at Microgaming online casinos. Microgaming is the slot's provider. In our opinion, the best casino site to get started with WowPot slots is Jackpot City. This casino is a first-choice reference in Canada, as well as in many other countries.
Sisters of Oz WowPot review
Progressive slot testers agree that Sisters of Oz WowPot is a very promising slot. Indeed, it's a favourite among players looking for million-dollar jackpots. The game is set up in such a way that the bonus wheel triggers on bets as low as $2 per spin. That's a great advantage if you have money to spend.
What's the most surprising thing about Sisters of Oz WowPot? It was created on September 7, 2020! Within a year of its launch, it has become one of the most played progressive online slots in the world.
If you have a small budget, it's best to go for a progressive game that pays out jackpots at a medium frequency. One title in the WowPot family offers such opportunities on the Major segments. That slot is African Legends WowMajor. The special feature of this game is that it only has the Major jackpot of the WowPot series. This makes it a classic video slot with a progressive pot powered by a vast network.
WowPot: A new household name
In less than two years, WowPot has become an icon at online casinos. With the exception of the Mega Moolah slot machine, no other casino game series has ever had such rapid success. You just need to visit the most popular casino sites in Canada to see this.
Nowadays, you seldom see a reliable online casino without a WowPot slot. Moreover, one of the biggest jackpots won at an online casino occurred on a WowPot slot, the Book of Atem. That just goes to show how impressive the WowPot concept is.

Last Updated on November 25, 2021 by Publisher
Sisters of Oz WowPot Online Slot Machine